How's everyone doing ?
I am soooooo tired !
This working for yourself lark is knackering ! Well it is when you're the only one in the house who's working ... I'm not sure if it's the pressure I'm feeling or just the fact that my days are so busy, but I am just plain pooped and ready for bed already !
Up at 6 ish ... out by 8am ... back in by 9 ... then it's emails, bead cleaning, photographing, image prep ... then there's the endless networking you have to do to get your work seen by potential buyers .... coffee break then it's of to the torch ..... worked till the kids came home, then it's dishes, cleaning the kitchen floor ... then the laundry.... then I sit by the fire place for an hour or so burning all the rubbish we can't get rid of .... sit down for a bit then it's time to cook dinner ( we had hot dogs today cos I couldn't be bothered)
Where does the day go ?
I really don't understand this fabled equality ... it confuses me so !
When my partner was working, I did it all .... and fitted as many work hours in as I could .... so why, when I am the only worker, do I have 'help' with the jobs ?? I did them all myself when it was the other way around ? so why do I need to do them, but with a bit of help ??
And I don't understand all of this "oh it's a man thing" either .... people are people ... jobs are jobs ... so why the inequality I ask you ?
Ahh well ... tired moan over with ... I have had a few really productive days at the torch, which is always good :)
I'm still getting portrait requests, which is fab ! Challenging, but fab :D I might moan, but I REALLY need the work right now !
I made my first attempt at a thimble monster yesterday ... unfortunately, he slipped off the mandrel ... DOH ! So he looks pretty sorry for himself now ... he's intact though, so the attempt wasn't a total loss :D
Yesterday morning was nice too ... Mum slipped me £30, instructing me to 'treat myself' .... so I did :D It took an hour of walking in and out of the shops, but I finally bought myself a real luxury ... a new handbag !!!!
Oh and I bought a cool jewellery stand in the sale too ... not for me, I don't really wear jewellery, but just in case I get the chance to sell anywhere this year :)
Here are my goodies ...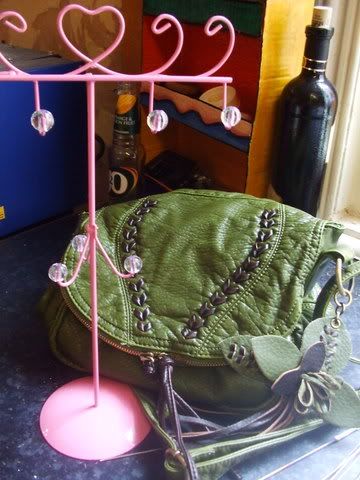 Hmm .. anything else interesting happened to me over the last day or two ?? Ummm...... nope .. don't think so ...
I made some nice beads though :)
You may have seen them in the show and tells, but for the benefit of those who haven't and for posterity on my blogspot site.. here are a few piccies :)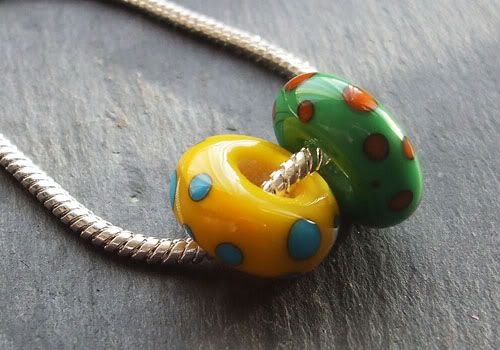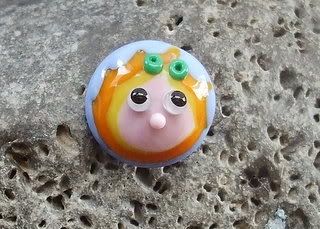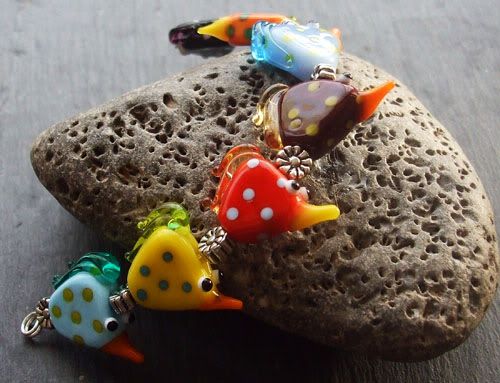 Well that's pretty much it for now ... I have some commission nugget sets to clean and etch after this ... oh and a lovely chunky set of crunch beads, all left shiny, in graduated amber shades ... oh and there is my first home attempt at Anouk's Angel Wing's technique .. it was going quite well until I accidentally squished it, so I now have a flat, off mandrel pendant ... it actually turned out better than I had hoped... will share pictures tomorrow :)
Well I hope you all enjoy the rest of your evening :) Catch you tomorrow with more day to day mumblings :)
Ta Tar x